Introduction to Linux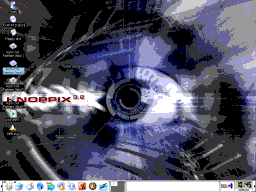 Overview | Distributions | Features | Software | Login | Windows | Icons | Panel | K Menu | Files | File Manager | Shells | Editors
This document is written to help ordinary people get started using Linux. It assumes that you have used a computer before.
In August 2003 most computers at Uganda Martyrs University were migrated from Windows to Linux.
Linux is a UNIX-based operating system created in the early 1990s that runs on PCs and other computers.
The inventor Linus Torvalds pronounces it Lee-nukes, but if you pronounce it Line-ucks or Lin-nicks, I won't mind.
A Linux distribution is the Linux operating system plus a collection of free software that can be used with Linux.
A Linux distribution is usually stored on CD or DVD and sold by a company or organization at a relatively low cost.
Popular Linux distributions include Red Hat, Mandrake, Debian, and SuSE.
At Uganda Martyrs University some computers use Knoppix which is derived from the Debian distribution.
| Feature/Operating System | Microsoft Windows | Linux |
| --- | --- | --- |
| inexpensive? | no (commercial) | yes (distribution) |
| can download free from Internet? | no | yes |
| distributed with other free software? | some | lots |
| can access and modify source code? | no (proprietary) | yes (open source) |
| easy to install and use? | somewhat | somewhat |
| fast, efficient and powerful? | newer versions | yes |
| stable and secure? | newer versions | yes |
| network server features? | some versions | yes |
| installed on how many computers? | hundreds of millions | tens of millions |
| Feature/Platform | Microsoft | Linux |
| --- | --- | --- |
| graphical interface (desktop) | Windows | KDE or Gnome (and X Windows) |
| command line interface | DOS command prompt | terminals (Konsole), shells (sh, csh, bash, etc.) |
| Web browser | Internet Explorer | Konqueror, Mozilla, Netscape, etc. |
| word processor | Word | OpenOffice Writer, KWord, WordPerfect, etc. |
| spreadsheet | Excel | OpenOffice Calc, KSpread, etc. |
| help system | Help | man pages, info pages, howtos, Gnome and KDE help |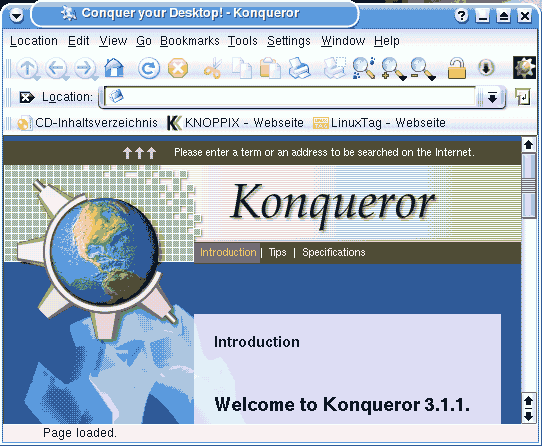 When the computer is switched on, it boots (starts) and eventually comes to a login prompt.
Type your username, press the Tab key, enter your password, and press the Enter key.
Usernames and passwords are case sensitive. If login fails, press Caps Lock to make sure it is not on, and try again.
To logout, click the K menu, click Logout, and click the Logout button. (If you do not want to log out, click Cancel.)
Like with Windows, you should not switch off the computer until after the computer is shut down.
To start a program, click the K menu, move to a menu or item, and click the program name.
For example, to read the KDE user's manual, click the K menu and click Help.
To move a program window, click and drag the title bar of the window.
To resize a window, click and drag one of its corners.
Double-clicking the title bar of a window hides it except for its title bar. Double-click again to redisplay.
The buttons in the upper right corner of a window work like those in Microsoft Windows:

Question: click this button and then click any button or menu to get a description.
Minimize: hide the window on the panel at the bottom of the screen.
Maximize/Restore: make the window fill the entire screen or return to its previous size.
Close: close the program window.

You can also minimize and restore by clicking the program's button on the panel along the bottom of the screen.
The pictures on the desktop are called icons. To open an icon on the desktop, double-click it.
To see the contents of a floppy disk, put the floppy disk in the floppy drive and double-click the floppy disk icon on the desktop.
To delete a file, drag it to the trash icon.

The panel is a bar at the bottom of the screen like the Windows taskbar.
The panel contains several controls, which may be somewhat different on your system. Shown here, from left to right: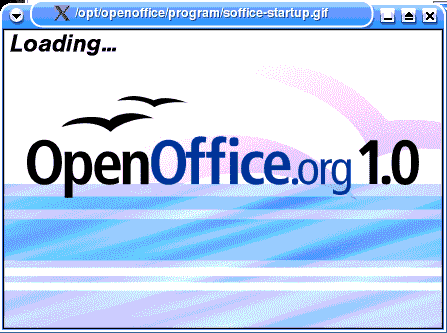 The K Menu: start a program by selecting it from a menu, like the Windows Start menu.
Panel Options: rearrange how menus and panels are shown.
Show Desktop: minimize all windows so you can see icons on the desktop.
Home: open the Konqueror file browser and looks in your home directory.
Control Center: change how your desktop looks and the computer setup
(for advanced users and administrators)
Shell: a terminal window where you type Linux commands
Konqueror: a web browser for viewing web sites
Mozilla: another web browser
Evolution: an e-mail program
OpenOffice: an office suite with word processor, spreadsheet, presentation graphics, etc.
1234: four "virtual desktops" used to display different sets of running programs
one button for each program you are currently running
various settings, e.g. language and battery power
time and date
The K Menu appears when you click the button on the left of the panel.
Some of the K menu items, from bottom to top:
Logout: finish using the computer and leave it for someone else.
Lock Screen: when you want to leave the computer unattended a few minutes
Run Command: type a single Linux command or program to run.
Bookmarks: quickly access a file or web page you have bookmarked.
Help: read the KDE user's manual and other documentation.
Find Files: search for files on a disk.
other folders: programs are grouped into categories such as Editors, Games, Internet, Multimedia, Office, Settings, System, Utilities, etc.
The top of the menu lists the most recently used programs.
A directory is a file that can contain directories and other files. Directories are hierarchical and form a tree structure.
Directory names end in /.
The root directory (folder) is named / and contains all other directories.
Like in DOS, the current directory is named . and the parent directory is named ..
The root directory of a mounted (opened) floppy drive is /mnt/floppy.
A user's home directory is named /home/username
e.g. a file named letter.txt in the user joe's directory would have the path /home/joe/letter.txt
Files do not need extensions though many programs use them,
e.g. .c for C source code, .java for Java source code.
Filenames can be up to 255 characters.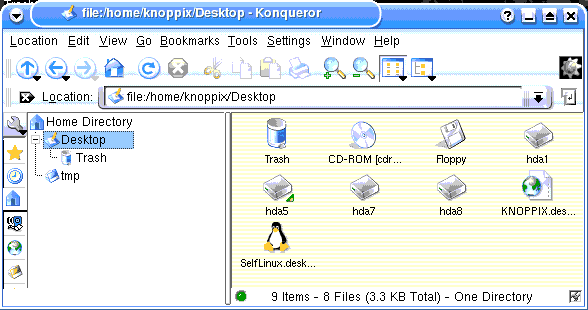 Konqueror helps you browse files, folders and disks and is also a Web browser, like Internet Explorer or Netscape.
Double-click a disk to view its files (shown as icons).
Double-click a file to open or view it.
The left and right arrow buttons go back and forth between previously visited folders.
The up-arrow button takes you to the parent directory.
The home button takes you to the home page, which may be your home directory.
Other toolbar buttons: refresh, stop, cut, copy, paste, print, increase/decrease icon size.
The last two toolbar buttons show files either as icons or a detailed list:
name, size, file type, modified, permissions, owner, group, link.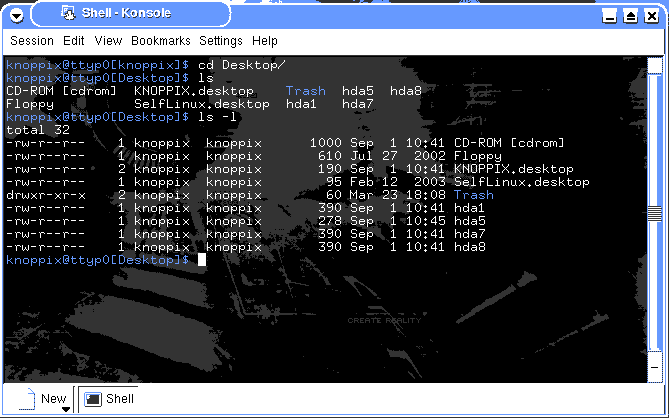 In a shell, you type commands to navigate files and run programs.
A shell works very much like the MS-DOS command prompt in Windows.
Popular shells include bash (Bourne again shell), pdksh (public domain Korn shell), and tcsh.
After typing a command, press the Enter key.
To see previously typed commands and run one of them again, press the up-arrow key.
To edit a command, use the left and right arrow keys, backspace and delete.
To exit from the shell and close the terminal window, type exit and press Enter.
KEdit is a program to write simple text files.
To start KEdit, click the K menu, move to Editors and click KEdit.
Buttons on the toolbar are:
New, Open, Save, Print, E-Mail, Undo, Redo, Cut, Copy, Paste, Find
KWrite is like KEdit but has a few more options.
Kate is a text editor for programmers, with shell and file browser windows.
OpenOffice.org Writer is a full-featured word processor with formatted text, graphics and page layout features.